The Top Problems with Amazon Ad Performance, and How to Fix Them
Why Aren't My Amazon Ads Showing?
One of the most puzzling issues faced by sellers on Amazon is why their ads are not being displayed, even when they seem to be doing everything by the book. If you are using a wide swath of ad targets - automatic targeting, manual keywords, and competitor targeting - while matching or even going beyond Amazon's bidding recommendations, you might still find your ads are Amazon's best kept secret. Let's dissect the potential reasons behind this.
The Algorithm Behind The Scenes
First and foremost, it is vital to understand that Amazon's decision to display your ad is not based solely on bid price. Though it is true that Amazon earns through clicks, it's the sales that result from those ads that make more money. So, the algorithm relies heavily on the likelihood of an ad converting into a sale. If the algorithm deems your ads are unlikely to convert well, it may opt to not display them, regardless of your bid.
Conversion Rate Matters
Here's a reality check: if your product page isn't converting as much as you'd like, running more ads isn't the magic solution. Before you go any further, it's time to investigate the reasons behind the low conversion rate. Although the task can be daunting, understanding the core issue is crucial. Ask yourself, is the product description clear and engaging? Are there enough high-quality images? Will the customer get the product quickly? In short… would you buy your product? Analyze and act upon the answers.
The Impact of Messaging and Pricing
High-quality products that are fairly priced can still fail to meet their potential due to poor messaging and merchandising. And, even the most impressive product detail page content will not save a product that is priced uncompetitively. You need to make sure that both are taken care of.
Convenience is Key
Customers often lean towards the most convenient options. This is where Fulfillment by Amazon (FBA) has an edge over Fulfillment by Merchant (FBM). If your competitors are using FBA and you're stuck with FBM, this could be the bottleneck holding your ads back. Assess your business structure and find out what is preventing you from opting for FBA. It might require some adjustments, but aligning yourself with the preferences of the customers could be the game-changer.
My Ads Are Showing, So Why Aren't Customers Clicking?
You've cleared the first hurdle: your ads are finally gaining impressions. But here's another challenge – the click-through rate is abysmally low. There are a few reasons why this might be happening.
The Significance of Your Product's Offer
First things first, if your ads are visible but not enticing enough customers to click, the issue probably lies in your product's offer. The "offer" encapsulates the information that Amazon displays about your product. This can be a result of a paid Sponsored Product ad or an organic listing. Typically, an offer presentation includes the hero image, available variations, product name, price (inclusive of discounts or coupons), and various fulfillment details like delivery time and stock availability. There are lots of places on Amazon pages where Sponsored Product ads can appear, but let's consider the most common: the top row of search results.
Customer's Snap Judgments
Customers, inundated with too many options, tend to make snap decisions regarding which offer to click. But, it's more than that: their initial reaction, conscious or not, is to eliminate options they don't want. Your offer needs to avoid making the cut in this split-second elimination process.
The Line-Up Examination
While we'd love to, we don't have all the room we need to cover the entire art and science of crafting an offer here, but let's begin by advising you to search for your product and analyze its appearance in what we call the "line-up" along with other offers, either paid or organic. This is a critical self-assessment:
Hero Image: Is your hero image captivating and well-composed compared to competitors? If your competitors all tend to adopt the same photography style, are you doing the same?
Product Title: Does the entire product title appear below the image? If not, are the vital parts at the beginning and easily visible? If the information your customer needs to know for that snap decision isn't visible in the first part of your title, they won't click.
Variations: Are you offering as many varieties as your competitors? If you're offering your product in one color while most of your competitors offer six or eight, that's your first problem to fix.
Price and Fulfillment: Is your price competitive? If most competitors offer Fulfillment by Amazon (FBA), are you keeping up?
Fixing The Offer
The good news is that everything is fixable, including the price. Some tweaks are easy, while others may require more time and investment. However, assessing your offer in the line-up is the stepping stone. Then, comes the hard part…. or, if you ask us, the fun part.
Analyzing Click-Through Rate by Target
It's also essential to scrutinize your click-through rate by target, which could be a search term or a competitive product. If your campaigns are relatively new, you might not have enough data to draw statistically valid conclusions. As your campaigns mature, patterns will emerge. Be cautious of bidding on keywords that are not relevant to your product or targeting products that customers are unlikely to compare with yours. These strategies might reduce your cost per click, but at the expense of sales.
My Customers are Clicking, But Why Aren't They Buying?
Congratulations! Your Amazon ads are reeling in traffic with a commendable click-through rate. But, there's a snag – the conversion rate is trailing behind.
The Keystone: Your Product Detail Pages
An optimized product detail page the fundamental driver of success on Amazon. It doesn't matter whether traffic is flowing in through organic searches, paid search, Amazon Posts, Amazon Stores, Amazon Live, external sources, or even Amazon Vine… if your page isn't adequately optimized, you won't succeed.
Hit The Brakes On Advertising
When new clients approach us to help with their ad performance, our first piece of advice might be surprising: stop advertising.
This might seem counterintuitive, but here's the rationale: funneling money to drive traffic to an unoptimized product page is not just a drain on resources, but also detrimental in the long run. Each click on an unoptimized page informs Amazon's algorithm that your page doesn't convert well, and this, in turn, diminishes your page's standing in both organic and paid searches. Once caught in this trap, escaping is an uphill battle.
Mastering The Art of Optimization
Understanding the importance of optimizing product pages is simple; executing it effectively is where the challenge lies. If you find yourself at a crossroads, not knowing where to start or worried about spending money on the wrong things, that's okay: we're here to assist.
Our Guiding Mantras
We abide by two fundamental principles: "best in class, or don't bother" and "customers have little patience for content that looks like it was created by a well-meaning amateur."
Imagine you've stumbled upon an art gallery. You find the paintings to be uninspired, and while the technical skill shown in the work is okay, you're not sure why they're deserving of being in a gallery.
Then, a curator appears and asks you how you like the elephant collection. That's right, the curator explains – all of these were painted by an elephant! She held the brush in her trunk!
You might find that very impressive indeed, and you might even see fit to purchase one of those works of art. And then, when your friends see it, you'll say "What do you think? This was painted by an elephant!", to which your friends will respond that it must be a very talented elephant, and that you, by extension, have rare and exquisite taste in art.
Amazon shoppers are nothing like this. They don't care who's designed your product detail page. They'll either find it appealing and effective, or they won't.
Ready To Transform Your Product Pages?
We could write quite a bit more on the art and science of Amazon product page detail optimization. After all, we're passionate about what we do, and we love talking about it.
But, we'll end it here.
 If you know you need help with your Amazon presence, but you're uncertain of the next steps, talk to us. We'll be happy to provide a fast, friendly and free audit of your content and help craft a plan to elevate your product pages to where they need to be.
The Parker-Lambert Difference
We don't take a factory-style approach. We're a boutique agency, and all of our clients are under the care of our internal team. We're a partner in your success, and we invest the time into building a customized growth plan that provides you with everything you need for optimal performance.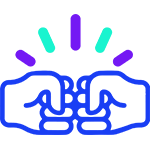 Brand and Catalog Management
Brand and Product Launch
Go-to-market planning and execution to ensure a successful launch of your brand, whether it's new to the world, or just new to Amazon.
Strategy and Growth
Market analysis, setting revenue targets, and implementing plans to grow market share.
Advertising and Promotion
Parker-Lambert is an Amazon Verified Partner. We define and deploy advertising and promotional plans for growth and return on investment.
Product Setup and Maintenance
Let's get your product line set up right, the first time, with variations, keywords, and best practices for titles and bullets.
Technical Support
We work with Amazon support teams when things go wrong, so you can focus on making great products.
Schedule Your Intro Strategy Call
Let's get started with a short Zoom session to discuss your needs and answer any questions. We won't add you to any lists or bombard you with emails after the session. It's free, with no obligation.
Already know what you need, and just want to see pricing? You can request a quote.