Effective Copywriting for Amazon: What You Should Know
Copy that's clear, engaging, and persuasive is the foundation of a brand's Amazon presence. That's why Amazon copywriting is a big part of what we do for our clients. Here's the approach that we take when we work with clients to take their Amazon content to the next level.
Develop Your Product's USP
Your USP is your product's unique selling proposition -- that is, describing it in a way that no other brand would be able to use to describe their own product. This is certainly easier for some products than it is for others, but we firmly believe that you can craft a USP for any product. A USP typically isn't just a slogan; it might take two or three sentences to cover. The USP also isn't necessarily ready to use in customer-facing content. But, it's what drives the development of the copy.
A colloquial term for the USP is the "elevator pitch." If you got lucky enough to ride an elevator with somebody who could help you do great things with your brand and you had only 30 seconds to describe your product's unique place in the market... you'd be conveying the product's USP.
Some clients can do this instantly. For some smaller clients, part of the initial process is working together to develop one.
Find Your Voice
It's one thing to craft copy that's clear and compelling. The next step is to write it in such a way that it stands out from your competitors. Apple and Nike have instantly recognizable brand voices (at least to those of us who think about positioning and communication for a living). Define your brand's voice by understanding your product, your audience, and your competitors.
Understand Your Target Audience
It's vital to understand who you are writing for. The language, tone, and features you highlight should resonate with your target audience. Think about their pain points, need states, preferences, and what would compel them to choose your product over a competitor's.
The tactics above are part of the basic skillset of professional copywriters and product marketers. Now, let's shift from the abstract to the practical and cover how these can be applied specifically for Amazon copywriting.
Optimize the Product Title
Your product title is often the first thing a potential customer sees. It should be descriptive and incorporate keywords that customers are likely to search for. A well-optimized title can improve your listing's search visibility and click-through rates.
Writing product titles is both an art and science. Before you begin, you'll want to have a clear understanding of the search terms that your potential customers are using to find your competitors' products (keyword analysis is one of the cornerstones of our copy development services). You also shouldn't write it in a vacuum. Spend plenty of time looking at how your direct competitors write their titles. Effective keyword placement will get your offer in front of the customer, but it's how your title looks next to your competitor's title that will lead the customer to the important step of clicking through to your product detail page.
Be Careful...
The mechanics of crafting Amazon titles deserve an article of their own, and there are plenty of other great sources that go into the details. We just want to make one more important point: titles are obdurate. That's a word we learned when we read Stephen King's novel 1963. In that book, the past doesn't want to be changed. And Amazon titles don't want to be changed, either.
In the old days, titles could be changed at will, and on a whim. And, you can still change your product title as much as you want within a short time window (which Amazon keeps secret) after the product has been created. But, after a certain amount of time, that title is effectively locked, and may require spending time with Amazon's support team to convince them to change it. There are computer science-y reasons for this relating to search speed optimization. Amazon isn't doing it just to cause grief for sellers and vendors.
The important takeaway is this: resist the temptation to use a short placeholder title with the intention of coming back later to fix it. You might not get the chance.
Craft a Compelling Bullet Point Section
Remember that USP? The next step is to translate that USP into bullet point form, with the most important features at the top. You can begin with a short bullet list for your own use that's not customer-friendly, because that list of points doesn't just drive the creation of your bullet points. It will also influence your carousel flow and A+ content.
Here are some best practices:
Be sure that the bullet list version of your USP is covered in its entirety, and be careful of redundancies. You generally only need to speak to a feature or benefit once.
Incorporate relevant keywords naturally, and avoid clunky phrases that are a sign of "keyword stuffing." If you find yourself wanting to restate features or benefits so you can use all the top synonyms, rethink your approach.
Address customer pain points, need states, and potential resistance. Use active, imperative verbs. Don't write that a pair of sweat pants are comfortable. Tell them that they'll enjoy the comfort of wearing them after a long day of work.
Sorry, we've regressed to covering the broad basics of marketing copywriting. So to complete this list, here's one specifically for Amazon copywriting:
Find balance in your copy length. Each bullet should be more than four or five words. It shouldn't be more than a couple of sentences, either. This bullet right here that you're reading? It's too long for Amazon. Either way, the right length will depend on your product's category. Some products don't need much more than ten words per bullet. For other product categories, there are a lot of details that are necessary to be conveyed above the fold.
Your Carousel Should Speak to the Customer
Amazon carousels should not be silent photo galleries. Just about any carousel tile (with the exception of the first main "hero" image) will be more effective a few words of copy or an illustration to convey a feature or benefit. And, the story that your carousel tells should follow the same order as your bullets, with the most important features and benefits first.
Our saying is "write your bullets like nobody's looking at the carousel, and design your carousel like nobody's reading your bullets." That doesn't mean, however, that you should put the entirety of your bullet copy in your carousel tiles. Here's where the craft of distilling your messaging into just a few words comes in to play.
Above all else, if you add copy to your carousel tiles, it must be readable on mobile devices. More than half of Amazon shoppers are using phones and tablets. If they come across a carousel image with copy that's difficult or impossible to read, they'll be left with a negative impression of your brand.
Final Thoughts
Parker-Lambert isn't just an Amazon copywriting service. Copywriting is integral to branding, and we're fundamentally a branding agency that does a lot of work for brands on Amazon and other eCommerce platforms. When we're launching a product line on Amazon or helping a brand improve the quality of their existing catalog, we always start with the copy.
Copywriting is branding. That's the most important thing to know.
The Parker-Lambert Difference
We don't take a factory-style approach. We're a boutique agency, and all of our clients are under the care of our internal team. We're a partner in your success, and we invest the time into building a customized growth plan that provides you with everything you need for optimal performance.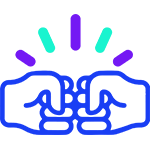 Brand and Catalog Management
Brand and Product Launch
Go-to-market planning and execution to ensure a successful launch of your brand, whether it's new to the world, or just new to Amazon.
Strategy and Growth
Market analysis, setting revenue targets, and implementing plans to grow market share.
Advertising and Promotion
Parker-Lambert is an Amazon Verified Partner. We define and deploy advertising and promotional plans for growth and return on investment.
Product Setup and Maintenance
Let's get your product line set up right, the first time, with variations, keywords, and best practices for titles and bullets.
Technical Support
We work with Amazon support teams when things go wrong, so you can focus on making great products.
Schedule Your Intro Strategy Call
Let's get started with a short Zoom session to discuss your needs and answer any questions. We won't add you to any lists or bombard you with emails after the session. It's free, with no obligation.
Already know what you need, and just want to see pricing? You can request a quote.