Amazon Inspire: What Brands and Creators Should Know
Amazon Inspire is the latest Amazon social shopping platform, joining Amazon Live. Unlike Amazon Live and Amazon Posts, it's an app-only feature.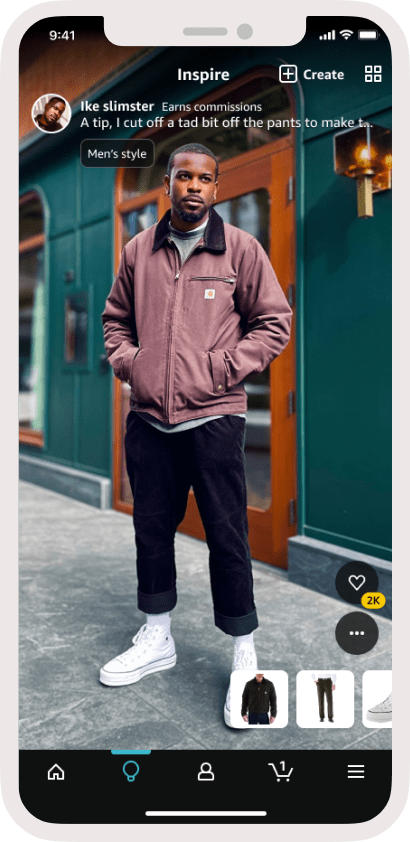 (image provided by Amazon)
A few notable features:
Since it's app-only, it's the first Amazon platform that's native to the mobile viewing experience. Content posted to Amazon Live, and videos posted by brands to product detail pages and brand stores, are still predominantly 16:9.
Amazon invites Amazon reviewers to create Inspire content, and in fact, if you're posting video content on your reviews, it may appear on Inspire. This is a break from Amazon Live, which is driven by content creators using the affiliate program, and brands. By inviting hoppers to post to Inspire, they're effectively leveraging their customer base to provide free content.
Brands cannot post video to Inspire at this time. However, images that brands publish on Amazon Posts may appear on Inspire.
Amazon Inspire for Content Creators: How To Make Money
As they cover on their page, If you're already a member of the Amazon Influencer Program, photos and videos you post to your storefront are eligible to appear on Inspire. There's not much else to do. If you're not yet posting vertical video content to your storefront, this is a great time to start.
(By the way, if you're an Amazon influencer and you're interested in the possibility of working with our brands, please fill out our content creator interest list.)
Amazon Inspire for Brands
Inspire is available to Sellers and Vendors. If you're enrolled in Brand Registry, any content you share on Amazon Posts is eligible to appear on Inspire.
If you're looking for influencers or content creators to feature your products on Inspire, you have a few options:
If you're eligible, Amazon Creator Connections is a great resource. But, Creator Connections is not yet available for all brands.
Use a third-party influencer directory, or do it the old fashioned way and find content creators yourself
In Conclusion…
Inspire is Amazon's latest tactic to reach shoppers in new ways. It's similar to Amazon Live, and finding content creators and influencers works the same way. The key difference is that Inspire is app-only.
You can think of it this way: if Amazon Live is their version of YouTube and Amazon Posts is their version of Instagram, Inspire is their version of TikTok.
Schedule Your Intro Strategy Call
Let's get started with a short Zoom session to discuss your needs and answer any questions. We won't add you to any lists or bombard you with emails after the session. It's free, with no obligation.
Already know what you need, and just want to see pricing? You can request a quote.