The Amazon Vine Program: Why it's a Great Investment for New Brands
Very few brands new to Amazon have the benefit of broad brand awareness and a steady flow of lower funnel, high intent customers who are checking Amazon pricing and availability for a particular brand. If you're lucky enough to have one of these brands, then the Amazon Vine program isn't as critical to your Amazon launch, although you'll still want to consider it as you launch new products.
For the rest of us, Amazon Vine represents the best value for getting high quality reviews.
Product reviews are vitally important to a product's success, because conversion rates – the likelihood that a customer will buy the product once they've arrived at your product's detail page, typically increase significantly once the product has a critical mass of reviews. Our general rule is that five reviews is a good start, ten are better, and at least 15 is the point at which the number of reviews gives most customers confidence in your product's quality.
In fact, we advise the brands we work with to make sure that their products have reviews before they begin advertising.
There are a number of ways of getting reviews for new products. One is just to wait until enough customers have left reviews, but since your product won't reach anywhere near its sales potential without reviews, the wait may be a while. There are other methods that new sellers have tried, like asking their friends and family to purchase and leave a review (this is against Amazon policy, and they have ways of detecting it), and using third-party review harvesting services or "review clubs." These are also disallowed by Amazon policy, despite the fact that many of these services will tell you that they're compliant. They're not.
This leaves Amazon Vine.
Understanding Amazon Vine
Launched with the primary objective of acquiring authentic and informative reviews for products listed on its platform, Amazon Vine invites select, trusted reviewers, known as "Vine Voices", to provide reviews on products submitted to the program by vendors. These Vine Voices are chosen based on their reviewer rank, which is determined by the helpfulness of their reviews as judged by other Amazon customers.
Sellers (or Vendors) provide a program fee for each Vine product review submission. They also provide free product samples to these Vine Voices in exchange for an honest and unbiased review. It's important to note that while products are given freely, Vine Voices are not compensated for their reviews, ensuring that their opinions remain genuine and unbiased. Vine reviewers aren't rewarded for writing positive reviews, but instead, for writing helpful reviews.
Why This is Important
Enhanced Visibility: For new products or those that lack sufficient reviews, the Vine Program can be instrumental in gaining initial traction. Having a product reviewed by Vine Voices means the product stands out among countless others, thereby garnering attention from potential buyers.
Quality Feedback: Vine Voices are seasoned reviewers, often having reviewed hundreds, if not thousands, of products on Amazon. Their feedback can provide valuable insights for sellers, which can be pivotal for product improvements. A well-detailed review can point out the strengths and weaknesses of a product from a customer's perspective.
A Credibility Boost: A positive review from a Vine Voice can significantly boost a product's credibility, which directly influences the conversion rate.
Diversified Opinions: By leveraging the Vine Program, sellers can expose their products to a diverse set of reviewers. This can result in a broad spectrum of opinions and viewpoints, catering to different customer segments and providing a more comprehensive overview of the product's pros and cons.
A Competitive Advantage: In the highly competitive Amazon marketplace, having multiple, high-quality reviews can make a huge difference. A product with a mix of Vine and organic reviews can stand out from competitors, giving you an edge. 
In Summary…
Amazon Vine Program offers a unique proposition for sellers to highlight their products through trusted voices. While it does require an investment in terms of the program fee and providing free products for review, the potential returns in terms of visibility, credibility, and (most importantly) sales make it a great investment. With the right product and a strategy that effectively harnesses the potential of the Vine Program, sellers can reap substantial rewards in the form of improved sales and a stronger brand reputation.
Looking for some assistance with your Amazon strategy? Let's talk.
The Parker-Lambert Difference
We don't take a factory-style approach. We're a boutique agency, and all of our clients are under the care of our internal team. We're a partner in your success, and we invest the time into building a customized growth plan that provides you with everything you need for optimal performance.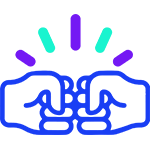 Brand and Catalog Management
Brand and Product Launch
Go-to-market planning and execution to ensure a successful launch of your brand, whether it's new to the world, or just new to Amazon.
Strategy and Growth
Market analysis, setting revenue targets, and implementing plans to grow market share.
Advertising and Promotion
Parker-Lambert is an Amazon Verified Partner. We define and deploy advertising and promotional plans for growth and return on investment.
Product Setup and Maintenance
Let's get your product line set up right, the first time, with variations, keywords, and best practices for titles and bullets.
Technical Support
We work with Amazon support teams when things go wrong, so you can focus on making great products.
Schedule Your Intro Strategy Call
Let's get started with a short Zoom session to discuss your needs and answer any questions. We won't add you to any lists or bombard you with emails after the session. It's free, with no obligation.
Already know what you need, and just want to see pricing? You can request a quote.