Amazon SEO: An Introductory Guide to Optimizing Your Listings
As the world's largest online marketplace, Amazon has become a focal point for brands and retailers seeking to reach a vast audience. Just as with search engines such like Google, optimizing product listings for Amazon's search engine can greatly improve visibility and sales. This process, often termed "Amazon SEO," involves tweaking your product listings to appear at the top of Amazon's search results for specific keywords.
Amazon SEO is so much more than copy and keywords
It's common for beginners to think of Amazon SEO as just the crafting of your product's title, bullets, and search keywords. That's certainly part of it, but optimizing your text content for search isn't enough. It's just the start.
Understanding Amazon's A10 Algorithm
When a customer types anything into the Amazon search bar, it's Amazon's A10 algorithm that's responsible for the results they see. It's complex and proprietary, but Amazon has stated that the algorithm prioritizes:
Relevance:
How well your product matches the search query. Amazon uses your product's page content to make this determination, but that doesn't just mean matching the text of your product's title, bullets, and product description. A10 uses product setup data, as well. If you've specified "weddings" as a special occasion for which your product is suitable, the algorithm will still consider your product for display even if the product doesn't have the word "wedding" in its title or bullets.
You can demonstrate this by searching for "red shirt." None of the products have "red" in the title, but the product's color is specified as red in the back end setup.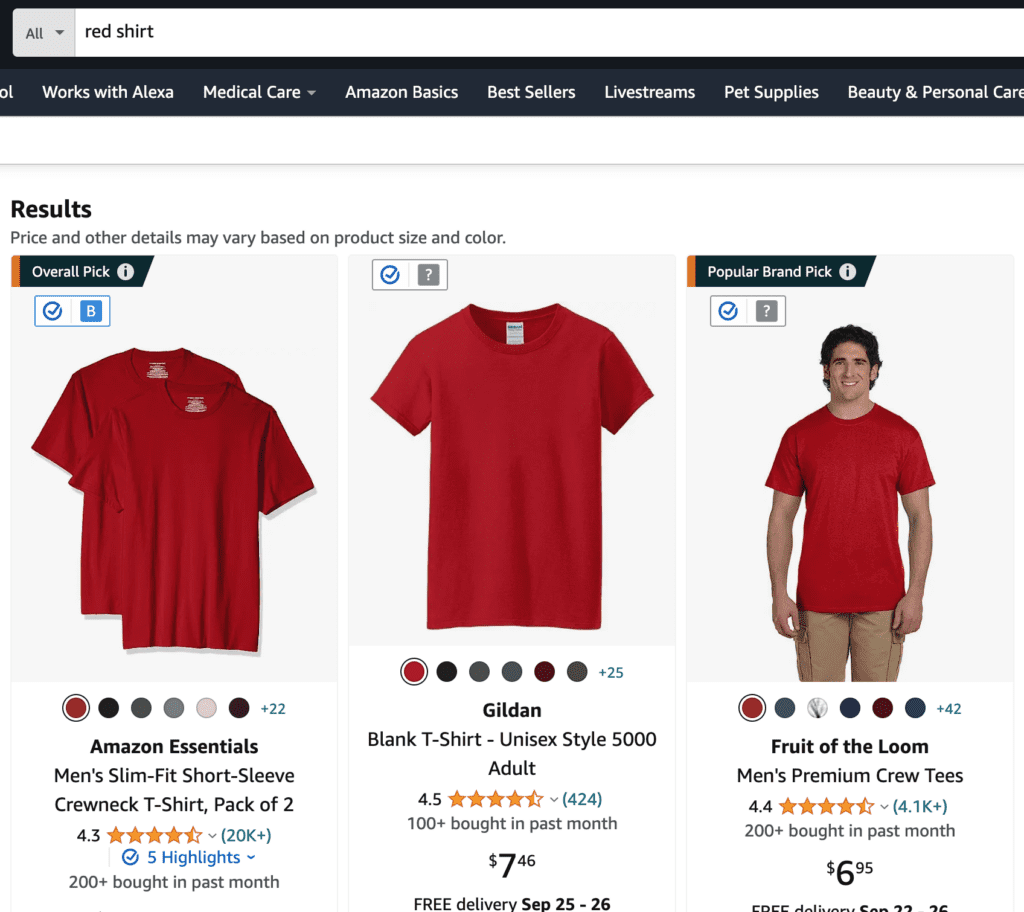 That's why it's important to complete as many fields in product setup as is reasonably possible. Amazon asks for this information because they have years of data that show that it's relevant to customer searches.
Performance:
Sales performance history, the quality of your offer, and other performance-related metrics are a big factor. Amazon doesn't want to show offers that the customer is unlikely to click. Keeping the product in stock is also important, as products that are stocked out regularly appear to have lower priority in the A10 algorithm. It's because if Amazon sells a product, they want them to become a repeat customer. Amazon's efforts for remarketing are stifled if products aren't available.
Customer Satisfaction and Retention:
The A10 algorithm considers factors like product reviews, seller feedback, and order defect rates. Reliable delivery is a factor for Sellers which fulfill products directly, rather than using FBA.
Page Quality:
Better-looking pages with higher quality merchandising presentations convert better. That's a fact. But the quality of your product detail page also influences the A10 algorithm. It's these details that matter:
Substantial bullets… not just a few words each.
At least four carousel images (Amazon recommends six, plus one video).
A+ content, whether it's a Brand Story, Basic A+, or Premium A+. Even if you don't think your customers are scrolling down to find your A+ content, or you don't believe that A+ is a significant factor in converting page viewers into customers, the simple fact that your page has A+ content will improve its search ranking.
And, that's just scratching the surface. Our article on the requirements for a complete Amazon brand presence goes into more detail.
While the concepts of Amazon SEO are straightforward, execution can be tricky and take a lot of time that you don't have. If you'd like to learn more, let's set up an introductory strategy session. We can take a look at your current Amazon presence and provide advice, and answer any questions you might have to determine if Parker-Lambert is a good fit for helping you achieve your Amazon goals.
Schedule Your Intro Strategy Call
Let's get started with a short Zoom session to discuss your needs and answer any questions. We won't add you to any lists or bombard you with emails after the session. It's free, with no obligation.
Already know what you need, and just want to see pricing? You can request a quote.